ContiTech makes the world's biggest gasholder diaphragms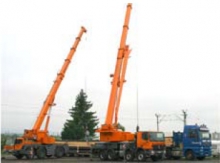 Conti Tech Elastomer Coatings, of Northeim, Germany, is making the world's largest gasholder diaphragms for a new steel plant in Sepetiba in the state of Rio de Janeiro. They will be used for the interim storage of converter and blast furnace gases in a ThyssenKrupp Companhia Siderúrgica do Atlantico Ltd. (TK CSA) project. The diaphragm dimensions are truly gigantic, so a lot of technological muscle had to be flexed to produce them. A mere 2.2 millimeters thick, each of the two gigantic diaphragms is 181 meters in circumference, 22.2 meters long and weighs 12 tonnes. They operate in the 70-meter-high steel containers that collect process gases from the whole steel complex. MAN Ferrostaal, headquartered in Essen, is setting up the containers. The company is also in charge of the construction and installation of the gas management system.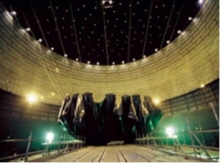 "From initial talks and drawings at the outset of the project, on through agreement on the design and right down to manufacture of the dry-seal diaphragms, the development teams from MAN Ferrostaal, ContiTech and Lazarus collaborated closely every step of the way," says Jonathan Landells, head of sales at Lazarus & Associates Ltd. in the UK and ContiTech's sales partner for engineering.
"In the gasholder, a reciprocating piston moves up and down adjusting the storage capacity to momentary fill volume so as to maintain the gases at operating pressure," explains Alexander Papadimitriou, head of the Industrial Products and Elastomer Sheeting segment at ContiTech Elastomer Coatings. "The diaphragms ensure a tight seal between the holder wall and the piston during all movement states."
Immense quantities of gas are involved. "All told, the steel mill produces a million cubic meters of blast furnace and converter gas each hour," reports Walter Offner, who oversees the whole project for MAN Ferrostaal. "With enormous capacities like that, every component has to function perfectly," adds Ernst Eberhard von Claer, project manager at MAN Ferrostaal. That's why the company is relying on the competence of ContiTech. "We exactly defined the size and quality needed for the gasholder diaphragms in our units – and ContiTech is capable of completely satisfying these requirements."
"Needless to say, production of two gasholder diaphragms of such gigantic dimensions posed a daunting challenge," says Alexander Papadimitriou. "But our experience as developers and manufacturers of innovative industrial products enables us to come up with individual solutions for our worldwide clientele. And we have what it takes for even larger dimensions."