Carbon monoxide turned into useful energy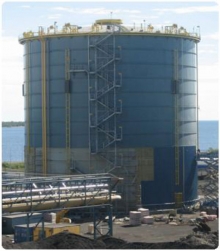 One of Outokumpu's Corporate responsibility theme year goals was to improve the Group's energy efficiency. One way of reducing the company's energy consumption is to utilize more carbon monoxide gas (CO), a by-product of Outokumpu's ferrochrome production, as a source of energy.
A gasholder was constructed and taken into use in September 2008 in order to allow the utilization of CO produced as a by-product of Outokumpu's ferrochrome production process in Tornio, Finland. At a total cost of seven million euros, the CO gasholder designed by Lazarus & Associates Ltd (United Kingdom) represents a significant environmental investment. The Group's environmental investments in 2008 totaled 18 million euros. As a larger proportion of carbon monoxide gas can now be utilized in Outokumpu's production process as fuel, use of the gasholder fabricated & erected by YIT Industrial & Network Services OY of Finland improves the Group's energy efficiency and thus reduces total carbon dioxide emissions.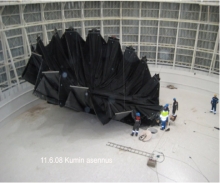 The CO gas produced in Tornio at Outokumpu's ferrochrome production process can be used to fuel downstream processes such as the adjacent hot-rolling and cold-rolling mills. Excess CO gas is also utilized by the Tornion Voima power plant located at the Group's site. Outokumpu produced 1.4 million giga joules (GJ) of CO in 2008. Before construction of the gasholder, the company was unable to utilize all of the CO produced because of breaks in production. When these occurred, the CO had to be flared and released into the environment as carbon dioxide because CO is hazardous to human health. As the new gasholder holds excess gas when this cannot be directly delivered to downstream units, it acts as a buffer during short breaks in production.
According to Anne Kärki, a Section Manager for energy at the Group's Tornio plant, the CO gasholder designed by Lazarus & Associates Ltd brings flexibility to Outokumpu's production operations in Tornio, allowing the CO utilization rate to be higher. The gasholder also stabilizes the gas pressure, which improves both quality and levels of safety. The carbon dioxide emissions resulting from the approximately 300 000 tons of CO the Group produces will continue. However, as the CO is utilized as fuel in downstream processes, this means that carbon dioxide emissions associated with purchasing and using other forms of fuel are avoided.
The steel gasholder is 41 meters high and 35 meters wide & features a rubber membrane seal manufactured by ContiTech Elastomer Coatings of Germany with whom Lazarus & Associates Ltd have a worldwide exclusivity agreement. It has a maximum capacity of 20 000 cubic meters, which is equivalent to one hour of gas production. The new CO gasholder enabled total energy savings amounting to 324 000 GJ. The total amount of CO-gas utilized 1.4 million GJ of energy during 2008. Introducing the gasholder into the production process has also contributed to a reduction of approximately 20 000 tons in annual carbon dioxide emissions at Tornio. In 2008, the Group's carbon dioxide emissions totaled 871 000 tons.